About Janet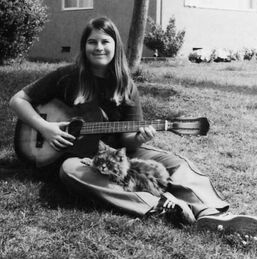 ​When a preteen, you'd typically see Janet Lenore sitting on the front lawn practicing guitar and writing songs about politics, cars and life. It wasn't long before her harmony-singing Mom started to chime in. Finding that their voices blended very well, the duo named their band "Rosenthorn" and started performing in coffeehouses, on the radio and for small audiences on a cross-country tour. By her 18th birthday, Janet was teaching guitar at the local parks and rec while experimenting with the mandolin and banjo. Later, she built a theremin from a kit. Even though she had inherited her Grandmother's banjo ukulele, Janet didn't start playing the ukulele herself until about 2004.

In her 20s and 30s, Janet got busy in the world of school and jobs, while her music took a back seat. She tried on a variety of careers including college bookstore manager, environmental impact report writer, museum worker, bank teller, human resources representative and IT Help Desk support. She earned her bachelor's degree while working at a sauna/massage therapy storefront then earned her master's degree as the owner of that shop. All of these jobs paid the bills but didn't feed the heart.

Not long after her mother passed away, Janet reclaimed the musical life that she had previously set aside. She developed her music chops by writing original songs for two CD releases, teaching classes and workshops at music camps, performing in bands and solo, and organizing music-driven events. And, always learning. Her musical instruments are now among her greatest treasures, including two ukuleles by luthier Ken Franklin

For Janet, 2018-2019 included a lot of traveling as she and her husband Jeff lead songs in Irish pubs with Keith Greeninger and JohnSmith. They also visited Liverpool, England to see where the Beatles grew up. Janet and Jeff shared the stage with fingerstyle wizard Alex de Grassi and with ukulele mavens Daniel Ward and Heidi Swedberg at the Ukiah Ukulele Festival. In 2020, they hosted monthly online "Bug Jams," using Zoom to stay connected with musicians around the country. In 2021, Janet spearheaded an online Winter Retreat for California Coast Music Camp (CCMC) for over 120 participants in a two-day event. Now she's embracing new ideas about how to carry on with musical growth and sharing as we as a society emerge into our "post-pandemic" future. Along these lines, updating of this web site after over twenty years of "sameness" is a huge step forward.

If she were to give advice to an aspiring musician, Janet would say to "take a chance." The moments actually playing a song are fleeting but the friendships you make, the skills you develop, and the snapping of your synapses while creating and interacting non-verbally through music – are the stuff that truly enriches life. So, take that solo in the jam even if you play one note all the way through, stand up and sing a song at the local Open Mike even if playing loud and off key, and give life to a song you wrote by playing it for someone else.
---