Calendar
Janet's musical interests are widely varied, She's supported hula dancers on the ukulele, grooved with Brazilian jazz on mandolin, and provided back-up rhythm guitar for a traditional Irish trio. She's performed in a blues and jug band, harmonized on original folk, twanged with country and swung with swing. Since of course, she rocks, she is sometimes seen taking theremin solo breaks in the band.
Some of Janet's most exciting music experiences have included sharing the stage with Windham Hill fingerstylist
Alex de Grassi
, steel guitar maven Patti Maxine, and keyboardist David Kaffinetti of "This is Spinal Tap." Thanks in part to music camps, Janet has has also enjoyed performing (and learning from) many masterful players such as
James Hill,
Daniel Ward
and
Paul Hemmings
, just to name a few.
​Janet enjoys a wide variety of musical projects whether being a supporting band member or being the "front person." She's had the pleasure of sitting in on mandolin and theremin with the original band "
Sezu,
" supporting gold record recording artist
Nancy Cassidy,
and playing farmer's market gigs with "
Lunarville.
" She loved being bandmates with
Topher Gayle, Amy Friedricks, Sharon and Jaya Carl,
Thomas Howell, Sid Sanchez, John Bidwell and many others. Janet's husband, bass player Jeff Davis, is her most frequent collaborator. Together they ran the "First Monday Open Mic" at Hayward's
"The Bistro"
for at least ten years. They've also enjoy performing at the "songwriter's hang" and being part of "Los Horribles" at
Michael McNevin's
Mudpuddle Shop in Niles.
---
Select Past Performances
2010-20

MAY, 2019
Various pubs sitting in with Keith Greeninger, Johnsmith, & Jeff Davis, Ireland2018-2019Various Farmer's Markets,

Campbell to San Rafael, CA

Sitting in with

Lunarville AUG 2002-2019Palo Alto Festival of the Arts, Palo Alto, CA

​OCT 11, 2018Cassidy's Salmon River House Concerts,

Stanley, ID

SEP 29, 2018The Monkey House,

with Pete Conolly & Topher Gayle, Berkeley, CA

OCT 25, 2014Cassidy's Salmon River House Concerts, Stanley, IDFor about ten years...Mission Pizza & Pub, with Topher Gayle, Jeff Davis & Thomas Howell, Fremont, CASEP 13, 2012Vino Locale, Palo Alto, CA

Sitting in with SEZU, Randy Hutchinson, David Kaffinetti & Kathy Ray

With Nancy Cassidy at the Palo Alto Festival of the Arts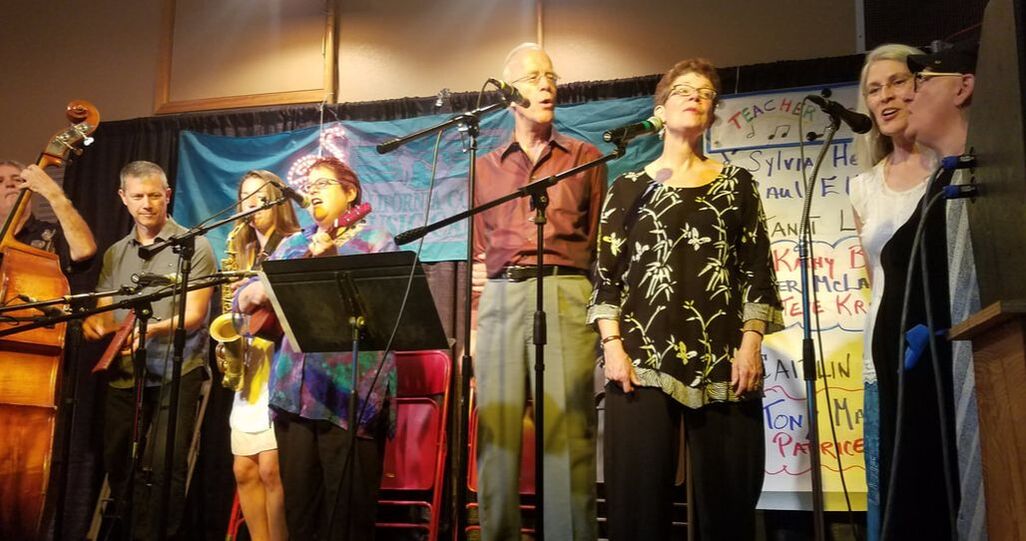 ---
Performing my song "Losing It" with my Dream Camp Band - L to R: Rene Worst, Brian Rice, Caitlin Belem, Janet Lenore,
Tony Marcus, Sylvia Herold, Patrice Haan & Jennifer Scott, off camera, Tim Connell on piano; July 2018.